Crystal Records — Susan Nigro, Contrabassoon recordings
| | |
| --- | --- |
| Most of our CDs are now available for ordering on-line, through our associate CCNow. If the item says ORDER NOW you may click on those words and go to our shopping cart. If the words ORDER NOW do not appear, that item is not yet set up for on-line buying. You are still able to order via e-mail, info@crystalrecords.com., or place your order by phone at 360-834-7022 or on our 24-hour fax line at 360-834-9680. Price of all CDs is $16.95. U.S. shipping is $2.00 per order. | Our special 4 for 3 free offer is now available on-line. When you order 4 CDs, what you need to do is place the order for the first 3 CDs using the Order Now buttons. Before checking out you will be given an opportunity to write a comment to go with your order. In the "other notes or instructions" space, write FREE CD with the catalog number of the one you want. In that way, you will receive the 4 CDs and only be charged for 3. |
Susan Nigro is a true contrabassoon crusader. One of the world's very few soloists on this instrument, her numerous recitals and solo appearances have occurred in such places as Salzburg, Montevideo, Rome, and throughout the United States. She has been a featured artist many times at the annual conferences of the International Double Reed Society. Her solo performances are frequently accompanied by master classes, lecture-demonstrations, or workshops designed by her to enhance the understanding and appreciation of the contrabassoon's unique sound and surprising versatility.
Nigro's quest for contrabassoon solo literature has led her to commission and perform many new compositions, and she has premiered more solo works for this instrument than has any other musician. She has four solo CDs on Crystal, including this one. All have been received with great acclaim. Another solo CD, The Bass Nightingale, includes the first commercially available recording of the Contrabassoon Concerto by Gunther Schuller.
The winner of a Pro Musicas International Career Development Grant and a finalist in the Chicago Park District Talent Search, Nigro received an honorable mention prize in the Rome Festival Concerto Competition. Her orchestra experience includes performances with the Chicago Symphony, the Saint Paul Chamber Orchestra, and extensive freelancing in the Chicago area.
Nigro received bachelor's and master's degrees from Northwestern University and an additional graduate degree from Roosevelt University. Her teachers were Burl Lane, Ferdinand Del Negro, Willard Elliot, Leonard Sharrow, Sherman Walt, and Wilbur Simpson. For three summers she attended Tanglewood Music Center, where she was awarded the Henry B. Cabot Prize. She honed her ensemble skills in the Civic Orchestra of Chicago.
A small sample of the rave reviews she has received for her CDs:
"This is Susan Nigro's fourth CD for Crystal Records, a company that specializes in performances of music for wind and brass instruments. The disc has two appropriate subtitles: "Bellisima" and "Italian Tunes for the Big Bassoon". Perhaps some connoisseurs will think the superlative degree of beautiful not quite appropriate for the biggest and deepest sounding of the woodwinds, but they should listen before making such a judgement...Nigro can spin a legato with the best." Fanfare, July/August 2006
"For as long as I can remember, the name Susan Nigro has been synonymous with the contrabassoon; one cannot be mentioned without the other. Five [of her recordings] have been made with Crystal Records — a fine match. Crystal Records produces good quality recordings that represent solo music like this very well...I suspect that all of Susan Nigro's fans have already snatched up this recording. In case you have not done it, do it. There is excellent music-making here." American Record Guide, July August 2006
"In her latest recording, Susan Nigro takes on the music by Italian composers from Baroque to Romantic to Modern. ... Throughout the recording Susan's playing is superb. With her excellent musicianship and style she often makes you forget that you are listening to a "lowly" contrabassoon, and you find yourself concentrating instead on the beauty of her tone, her flawless technique, or the lovely expressiveness of her phrasing. This is a wonderful recording showcase for the contrabassoon, and I recommend it strongly to you." Ronald Klimko, International Double Reed Society Journal, Winter 2006


<![if !vml]>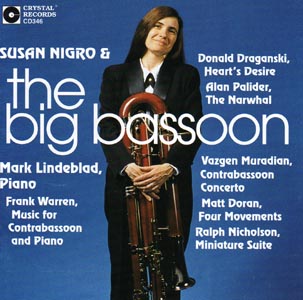 <![endif]>CD346: THE BIG BASSOON: Susan Nigro, Contrabassoon. Vazgen Muradian, Contrabassoon Concerto; Donald Draganski, Heart's Desire; Alan Palider, The Narwhal; Ralph Nicholson, Miniature Suite; Frank Warren, Music for Contrabassoon & Piano; Matt Doran, Four Movements. with Mark Lindeblad, piano. "Nigro is a veritable Paganini of the contrabassoon. A fun disc!" , Fanfare. This will test the bass of your system. UPC 00941473462-4 For more information about Susan Nigro and for a sound clip of this CD, click here.)

ORDER NOW
Sound samples (uses RealPlayer) Click on the link to hear approximately one minute of the movement shown.
Muradian Contrabassoon Concerto: Mvt 1 (Adagio;Allegro) Mvt 2 (Adagio) Mvt 3 (Moderato) Draganski: Heart's Desire Palider: The Narwhal Nicholson: Miniature Suite Mvt 1(Prelude) Mvt 2(Poco adagio) Mvt 3(Waltz) Mvt 4(Finale) Warren: Music for Contrabassoon Doran: Four Movements Mvt 1(Largo) Mvt 2(Theme & Variations) Mvt 3(Andante) Mvt 4(Allegro)

<![if !vml]>
<![endif]>CD348: LITTLE TUNES FOR THE BIG BASSOON. Susan Nigro, contrabassoon; Mark Lindeblad, piano. Jimbo's Lullaby (Debussy), Morceau pour le Basson (Cherubini), Take Five (Desmond), Harlem Nocturne (Hagen), Pink Panther (Mancini), Suite (Tartini), Allegro (Gemiani), Burlesque (Bozza), Honey-Coloured Cow (Ruth Gipps), The Ox and theAss (Gipps), Leviathon (Gipps), Concert Piece (Phillips), Little Suite (Laudenslager), Romance (Organn), Variations on Robt.Schumann (Davis), Down in the Deep Cellar (del Negro), Der Alte Brummbar (Fucik), Clarinet Polka (traditional), Tarantella Napoletano (traditional). UPC 00941473482-2 (For more information about Susan Nigro and for a sound clip of this CD, click here.)

ORDER NOW
Sound samples (uses RealPlayer) Click on the link to hear approximately one minute of the movement shown.
Cherubini: Morceau Pour le Bassooon Tartini Suite: Mvt 1 (Moderato) Mvt 2 (Andante) Mvt 3 (Allegro) Gemiani: Allegro (Concerti Grossi No 2) Debussy: Children's Corner Jimbo's Lullaby Bozza: Burlesque Gipps: Honey Coloured Cow Leviathan The Ox and the Ass Introduction and Carol Phillips: Concert Piece Laudenslager: Little Suite Slow Dance Quick March Organn: Romance Desmond: Take Five Hagen: Harlem Nocturne Mancini: The Pink Panther Davis: Variations (on a Theme of Robert Schumann) del Negro: Down in the Deep Cellar Fucik: The Bear With A Sore Head Trad: Clarinet Polka Trad: Tarantella napolitana
<![if !vml]>

<![endif]>CD349: THE 2 CONTRAS. Burl Lane and Susan Nigro Contrabassoons. Mozart, Sonata for Bassoon & Cello, performed on two contrabassoons; Vanhal, Concerto in F Major for two contrabassoons; Arthur Weisberg, From the Deep (for two contrabassoons); Daniel Dorff, Sonatina d'Amore (for two contrabassoons); Etienne Ozi, Sonata No. 1 for two bassoons (performed on two contrabassoons); Michael Curtis, The Impish Imp for two contrabassoons. UPC 009414734921 (For more information about Susan Nigro and for a sound clip of this CD, click here.)

ORDER NOW
This is the world's first two-contrabassoon CD. Susan Nigro's last two CDs on Crystal were the first contrabassoon solo CDs and have been hugely successful. Burl Lane is the contrabassoonist with the Chicago Symphony. William Eddins is Resident Conductor of the Chicago Symphony. This is an extraordinary CD which customers will be interested in for musical values as well as to test the low end fidelity of their speaker systems.

Sound samples (uses RealPlayer) Click on the link to hear approximately one minute of the movement shown.
Dorff: Sonatina d'Amore Mvt 1 (Allegro cantabile) Mvt 2 (Allegro) Mvt 3 (Molto allegro) Ozi: Sonata No. 1 Mvt 1 (Allegro) Mvt 2 (Andantino) Mvt 3 (Polonaise) Weisberg: From the Deep Mozart: Sonata for bassoon & cello Mvt 1 (Allegro) Mvt 2 (Andante) Mvt 3 (Rondo) Vanhal: Concerto for 2 bassoons Mvt 1 (Allegro moderato) Mvt 2 (Andante grazioso) Mvt 3 (Allegro) Curtis: The Impish Imp
<![if !supportLineBreakNewLine]>
<![endif]>

<![if !supportMisalignedColumns]>